CM99/00, the successor of CM3, was released in the UK on december 3rd. Most other countries followed a week later, in germany we had to wait until the last days of the old millennium. The game is mainly based on CM3, but has some very interesting improvements, that make the game more realistic than ever.


Download CM99/00 Demo (v3.69) and play a half season in england, 8.3MB

Quickstart file to play the demo in the german leagues, 4MB

Gamespot UK Review (9.5 of 10 points for the 99/00 edition)

Sports Interactive Ltd. - the makers of the CM games

9 Screenshots of CM99/00 (Please scroll down if the link doesn't work for you)

CM99/00 Minimum Requirements
The PC version: Pentium 2 133MHz or AMD K6-2 166MHZ Processor, at least 16MB RAM, 4x speed CD ROM drive, 70MB free hard drive space and MS Windows 95/98.
Mac version: Still have to figure it out :)
CM99/00 Key Features
Sixteen concurrent leagues will be playable, including for the first time the American MLS.
Accurate profiles and histories for over 40,000 players, managers, and coaches, collected by football fans from every corner of the globe.
A fully-fledged transfer system featuring all the intricacies of modern day negotiations.
Full international simulation featuring all the major tournaments plus B-team and U-21 management opportunities.
Updated pictures and in match sounds.


Improvements on Championship Manager 3
For the first time you can enjoy Championship Manager on the Mac now (Mac version published by Feral Interactive)
True-to-life representation of the competitions, awards, transfer and disciplinary rules from all sixteen countries including the new European Cup structure and the World Club cup; the game is now based on the 99/00 season!
Expanded league structures for Brazil, Belgium, Portugal, Spain and Germany (now with Regionalliga!)
Quicker match engine, the game now runs faster than ever before.
Improved match commentary, a greater variety of descriptive text to aid your analysis
Accurate modelling of referee characteristics from around the globe, including full statistical analysis of their performance in every league including a red and yellow card count!
Players now advise you of their reasoning for accepting and rejecting transfer and contract offers.
Greater media involvement, including transfer rumours and agent approaches and dressing room unrest.
Player Power! Some players now become unsettled and unhappy and may decide to leave the club in the lurch. It's up to you to decide how to handle such players.
Managers now have the ability to fine their players for a variety of reasons.
As manager you will now be able to request to your board additional transfer funding, an increased wage allowance, improvements to the clubs youth and training facilities and also the ability to request stadium expansion.
Improved board interaction, they will now advise you of their favourite players, warn you if the squad is too big or small. They'll also comment individual results, mention supporter pressure and occasionally give extra transfer funding.
Ability to assign scouts to individual players, clubs or tournaments and for the first time you can assign your scouts to find the cream of youth talent. You can then filter the results according to your requirements.
Clubs will have the ability to improve their stadium facilities, and those clubs that don't own their grounds will now be able to purchase new ones.
CM99/00 will be available in english, french, spanish, italian, portuguese, swedish and norwegian. Other languages like german will perhaps be released later as a patch.
---
Here some screenshots taken from the Sportsinteractive page: (Click on the pictures to enjoy them in full size)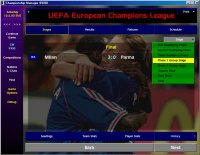 The new UEFA Champions League format...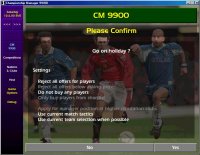 Tell what to do when you're on holiday...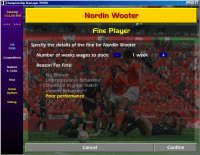 Fine a player...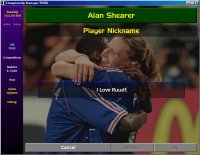 Give players a nickname...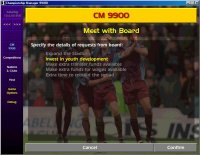 Request to the board...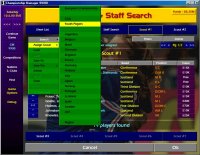 Assign your scouts to youth players...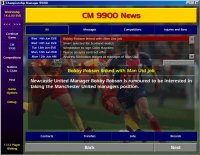 Rumours... Bobby Robson going to be ManUtd Manager?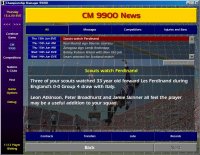 Scout report for specific player...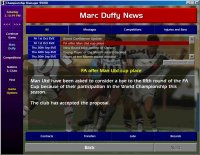 Manchester United been asked to consider a bye to the 5th round of the FA cup...

---